It's a challenging world for business today. Looming shortages, soaring prices, volatile markets, global competition. If you're in it for the long haul, how do you find the best ways to compete? In short, how do you make your business sustainable?
Sustainability can be many things to many people. iSpring can help you figure out what it means for you. Creating more value while using fewer resources like energy, water and raw materials? Driving your corporate impact to "net zero", substantially reducing costs in the process? Using sustainability processes in your operations to drive efficiency? Adopting carbon accounting? Tracking energy and water usage? All those and more comprise sustainability. We'll help you sort it out and make it happen.
Where others see obstacles and confusion, we see a bright green future where sustainability delivers competitive advantage. We think you do too, or you wouldn't be here looking for something different.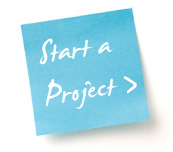 Ready to Move Forward?
For many companies, the path to sustainability begins with environmental compliance and progresses through cost reduction to full-fledged business strategy. Regardless of where you are on the sustainability spectrum, iSpring can help you move farther, faster. That bright green future we see coming? Let us help you get there. Read more about our focus areas. >
01.16 - 2016—The Work Begins Read more.
10.15 - Why the EPA's Clean Power Plan Is Good for Your Business Read more.
06.15 - Beyond the Carbon Footprint: What's Next? Read more.
03.15 - How Shadow Pricing Can Improve the Outlook for Sustainability Projects Read more.
01.15 - Combating Sustainababble and Making Reporting Relevant Read More.
12.14 - Don't Wait for Trickle Down Sustainability: How Local Efforts Move the Needle Read more.
09.14 - Everything You've Ever Wanted to Know About Carbon But Were Afraid to Ask Read more.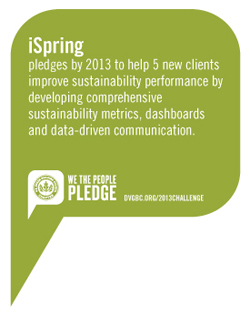 For a growing number of companies, sustainability equals profitability.
It's not just about the environment. It's about your future.
But to be sure you're reaping the rewards that sustainability promises, you need to set a strategy, measure your performance and communicate with stakeholders in a meaningful, verifiable way.
Green Performance Strategies, a joint service offering of iSpring and Four Score, is designed to give you as little or as much support as you need to track your performance towards financial, operational, environmental and social goals and make better decisions.
Ready to join the world's leading companies in taking your organization's sustainability initiatives to the next level? Learn more on the GPS website or contact us.
Making sustainability profitable just got a whole lot easier.
Want to stay on top of the latest sustainability news?
Subscribe to iSpring's monthly e-newsletter,The Sustainability Buzz to get the latest sustainability news direct to your inbox.
iSpring is a certified Women Business Enterprise (WBE).
© 2008-2018 iSpring Associates - Site designed, built and maintained by iSpring Associates. New site!