SUSTAINABLE MANUFACTURING
"The use of sustainable manufacturing processes in our facility gives us a clear competitive advantage in both controlling costs and reducing environmental impact." - Rusty Moore, Plant Manager, Kraft Foods, Baseline Sustainability Assessment Project
As manufacturers have developed an increased awareness of the limits of natural resources, they have begun to realize that if they inefficiently and ineffectively utilize these resources, they will eventually put themselves out of business. Sustainable manufacturing is a key to competitive advantage, and while the term "sustainable manufacturing" may be relatively new, the concept upon which it is based is common business sense—do more with less, and it will cost you less.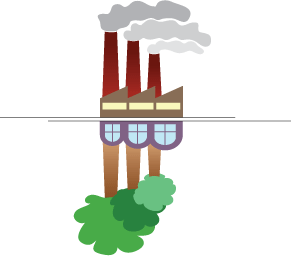 While most of iSpring's focus areas are applicable to any business, we have chosen to create a specific competency in sustainable manufacturing because of the relatively large impact that even small improvements can make. Although manufacturing accounts for only 12% of the U.S. gross domestic product (GDP), it utilizes almost one-third of all the energy consumed in this country, more than 40% if product transportation is factored in.
The National Association of Manufacturers has estimated that the average industrial facility can achieve practical energy reductions of 20%. Of those savings, more than 30% can be realized without any capital expense. And that only represents savings available from energy reductions. There are many more available in related focus areas – waste and recycling, water, packaging. At iSpring, we see this as an opportunity to have a significant impact on the future – the biggest "bang for the buck".
How It Works
The iSpring team uses a systems approach to create a sustainability baseline assessment of your operation. Because "what can't be measured, can't be managed", this assessment gives you an accurate picture of where your facility is today. The size and scope of the assessment depends on your needs, but we recommend that you take as expansive a view of your operations as possible so that you can understand the ripple effects of possible improvements.
Building on the baseline, through observation, data gathering, interviews with key personnel, and independent research, we deliver an actionable plan for sustainable improvements that will result in measurable savings based on your ROI requirements.
Sustainable manufacturing projects can include some or all of the following areas:
Energy efficiency & mapping
Process energy optimization
Material usage & efficiency
Alternative energy
Water usage and recovery
Land use
Transportation & logistics
Built environment (including LEED)
Waste management
Sustainability tech transfer
---
FEATURED RESOURCES
Sustainable Manufacturing Information Sheet (PDF)
Case Study: Baseline Sustainability Assessment at Kraft Foods
Sustainable Manufacturing: The New Competitive Advantage The Sustainability Buzz: May 2010
Sustainability: The 'Embracers' Seize Advantage (Findings from the 2010 Sustainability and Innovation Global Executive Study and Research Project). MIT Sloan Management Review and Boston Consulting Group. Winter 2011. (PDF)